Discover more from The Unfurling
Big questions. Gentle provocation. A dash of science, a scoop of wonder. A search for a compass in a disorienting time.
Bred to buck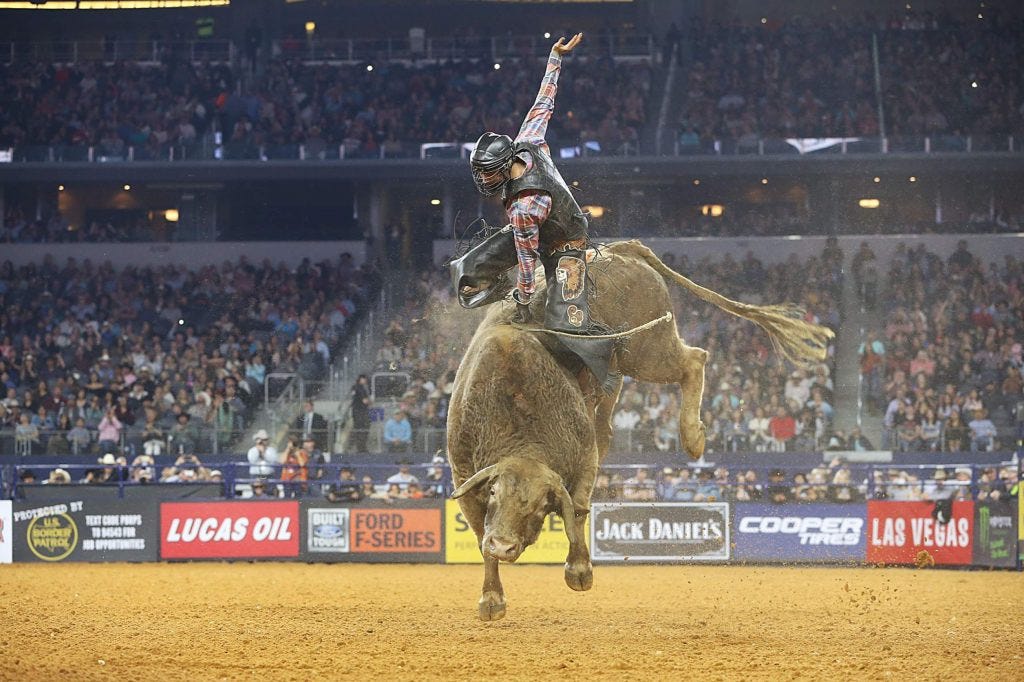 Photo credit: Andy Watson/Bull Stock Media
My dad started taking me on cross-country road trips when I was about 14.

To save money, we'd often skip motels and find places to sleep outside. Once I slept on the edge of a parking lot in Fort Knox, Tennessee (My dad assured me it was probably the safest place in America). Another time we rolled out our sleeping bags in a park in Montreal. Another time, we took turns dozing off in a booth at a 24-hour diner in Manhattan, while the other stayed awake and sipped coffee.
 
It always turned out fine. Which has maybe given me a skewed perception of risk. Right or wrong, I concluded long ago that excessive caution is an impediment to feeling fully alive.
 
This is how I found myself this spring tearing my hair out as I read headline after headline asking: Do the vaccines make us 78% or 82% or 96% safe? Is it safe to hug? To walk around and breathe the air outside? How can we make it more safe? Should we all stay home until we can guarantee that life is 100% safe, for everybody? It's driving me bananas.
 
I'm a life-long lefty, which to me always felt like the natural political home of folks who want leeway in their personal lifestyle choices and prize the freedom to orient their lives around their own values.
 
But increasingly, my liberal bubble is feeling ideologically vice-like – closed off to diverse points of view and sets of values. Is risk tolerance no longer tolerated in my cultural sphere? The question has me unsettled.
 
One of the best things about being a writer is getting to use your curiosity as a compass. I want to explore questions of safety and risk. What activity represents the opposite of a "safety first" mentality, I wondered? Probably… bull riding.
 
So last month, I googled "bull riding competition." There was one coming up that weekend, April 9th, in Sioux Falls, SD, called PBR's Unleash the Beast. I emailed the PR team, said I'm a writer in the early stages of writing a book on safety and risk, and I'd like to go. They said I could have a front row seat in the media section on Friday and Saturday night.
 
I booked a motel and hit the road.
---

Before I left I chatted on the phone with Andrew Giangola, a communications VP with Professional Bull Riders (PBR). He told me that bull riding was one of the first sports to come back with fans in the arena in 2020. If the riders don't ride, they don't get paid.
 
"What they do is half crazy, half sport," he told me. "The toughness and courage and grit they have, that's what's most alluring to me."
 
In 2019, a rider named Chase Outlaw (how's that for a cowboy name) was thrown off a bull and kicked in the face, breaking 30 bones. He required 12 hours of surgery and 68 screws to rebuild his face. Four months later, he was back on a bull, and USA Today dubbed him the "World's Toughest Athlete."
 
In a pre-rodeo TV interview this spring, he shrugged off the title. "If my grandma got in an accident on the way to Walmart to get groceries and it didn't kill her, she wouldn't quit going to get groceries. This is me getting groceries."
 
"We mandate helmets and Kevlar vests and have one of the strictest concussion protocols in sports, but at the end of the day, bull riding is never going to be completely safe," Giangola told me. "You've got a 150-pound guy on a 1,900-pound bull that's bred to buck."
 
As Sean Willingham, a veteran of the PBR, told another journalist, "You gotta be prepared. You're gonna get hurt. You're not gonna ever not get hurt."
 
Yeah. This was the attitude I'd been missing in my safety-saturated liberal urban bubble.
---

Friday, April 9th, Sioux Falls, South Dakota. I put on my cowboy boots and head to the arena.
 
Thousands of maskless people are streaming in the doors. I get my media pass at will call, take a deep breath, and slip my mask off too. I'm partially vaccinated, and I'm here to remember what danger feels like.
 
I get a $9 Coors Light and find my seat — ground level on the dirt stadium floor, only a metal fence separating me from the action.
 
The head clown is getting the crowd riled up. "Hey, did you guys hear, a new study just came out! It found that humans have more fun when they're sitting within 100 feet of each other!" The crowd roars. I smile, feeling transgressive.
 
"You know what this event is?" asks the clown. "This here is a superspreader...of JOY!" "Sweet Caroline" booms over the sound system and the crowd holler-sings along. The CDC would not approve.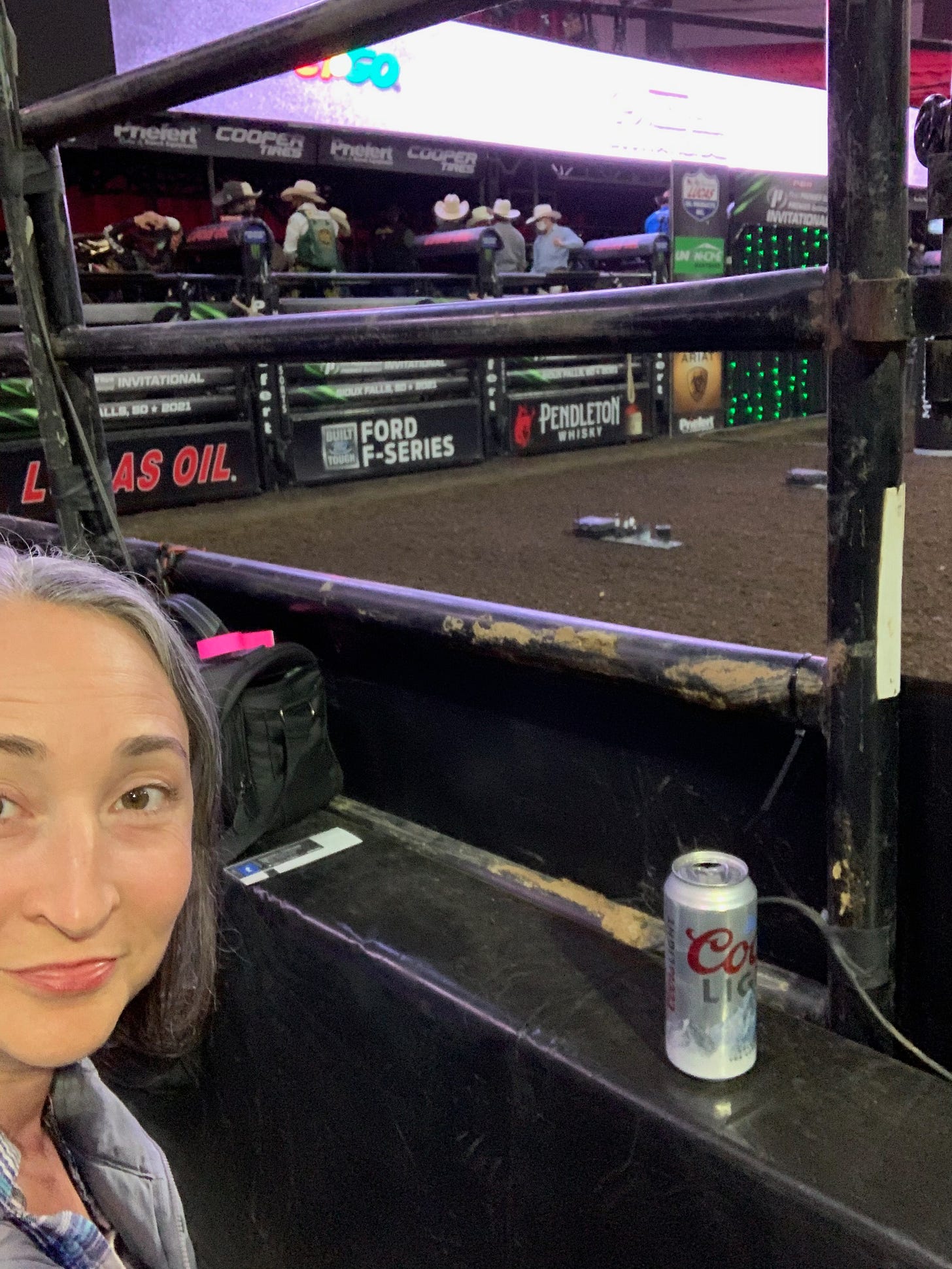 The riders are introduced as they parade to the center of the arena floor, surrounded by shooting flames. The announcer leads a prayer, asking God to keep the riders and livestock safe. And then we're off.
 
One by one, the riders mount bulls in the holding pens at the edge of the arena. Handlers in giant cowboy hats hover over them like angels, gripping them by their vests so they don't slip between the bull and the walls of the pen.
 
The riders make a sort of obscene gesture along a length of rope, warming the sticky rosin that helps them maintain their grip. When they signal that they're ready, another guy yanks open the gate with a rope and darts clear of the bull, which thunders out of the pen in a furious whirl — tornadic, writhing, bucking muscle, horns, and hooves. The rider clings to the rope with one hand, the other raised high.
 
The goal is to stay on the bull's back (without touching it with your free hand) for eight seconds. The harder the bull bucks and the faster it whirls, the higher the rider's score. If they're thrown before eight seconds is up, they don't score at all.
 
The two-time world champion, 23 years old and 130 pounds, comes out of the gate and is thrown in seconds. The next rider hangs on and nabs a score of 89.25 (out of a possible but nearly unheard of 100). These are not big guys. They're slight but strong — gymnasts in chaps and Kevlar.
 
It's hard to clap while clutching my beer, so I snap my fingers like I'm at a coffee shop poetry slam.
 
On the second night of the rodeo, Chase Outlaw, the cowboy who had his face reconstructed, gets thrown, tearing the ACL in his right knee and straining his groin. He'll be out again for a while. Another rider, Luciano De Castro, tears his left hip adductor and fractures a rib, partially collapsing his lung.
 
When a rider is injured, a hush falls over the crowd. The real risk of injury and death is a big part of what makes the sport so exciting to watch. But no one is rooting for it to happen. The felled riders are greeted with thunderous applause when they drag themselves to their feet.
---

There are no plays, strategies, coaches, or quarterbacks in bull riding. It's eight seconds of raw physics, an unrehearsed trapeze routine, the dirtiest dirty dancing.
 
The men don't resist the bull's bucking as much as they channel it, the thrashing energy rippling through their spines and shooting out the fingertips of their one outstretched hand. The bulls are bred to buck, and it seems the riders are too — against caution and self-preservation, with an energy that can't be tamed, only channeled.
 
It's not a matter of if they'll get thrown — it's how and when. No one ends a bull ride on the bull; they end it in the dirt. The idea is to make the ride as kicky as possible while it lasts.
---

I'm never going to ride a bull. I don't need my life to be that dangerous. But I don't want it to be a pony ride either, or a mechanical carousel tinkling safely in a circle, scrubbed of all danger and delight. I want a little buck and whirl, a little canter around some blind corners.
 
We're all going to end this thing in the dirt. I want to catch some air along the way.
Brain Food

I sat down with a wonderful naturopathic doctor, Dr. Sara Jean Barrett of Wellness Minneapolis, to get her advice on all things vaccination. Curious about the vaccine ingredients? How to mitigate side effects without interfering with the immune response? Whether you need to detox after the shot? Check out her guidance here. 

I appreciated this op-ed in the NY Times that highlights just how different the response and level of restrictions have been in red and blue states over the past several months. And how important it is that we all try to keep an open mind as we try to suss out what worked, what didn't, and where the jury is still out.

I love bagels. But I can't really eat bagels, which is borderline tragic. (I avoid gluten and they send me on a blood sugar rollercoaster.) On a whim recently, I googled "gluten-free bagels" and found these little angel babies: paleo, keto, grain-free Pagels. They're goooood! (At least, you know, by grain-free bagel standards.)
Thanks for reading, friends! I hope you're all enjoying a beautiful spring and the feeling of dipping your toes back into the waters of togetherness. (Or doing a cannonball into the deep end at maskless indoor rodeos, as the case may be.)

Please feel free to forward this to anyone who might enjoy it, or share it with the buttons below.
Love and high kicks,